LGBT Affirmative Therapy
LGBT Affirmative therapy means that I provide therapy (psychotherapy, hypnotherapy, EFT, EMSRP) that is not only "friendly" but is positively affirming. Whether you identify as Gay, Lesbian, Bisexual, Transgender or any of the other other acronyms (eg. Pansexual, Non-binary, Queer etc) you will be affirmed for who you are, a normal, healthy human being.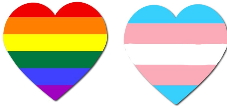 Affirmative Therapy means that I will help you to feel confident about yourself. Many people are on a journey in life to discover more about themselves. Whether straight or LGBT+ you have every right to be yourself. I will help you to feel more relaxed and confident to be yourself. Even if at times, you are still unsure of your identity in terms of gender, sexuality or sexual orientation. It's okay to be unsure and in a place of discovery.
LGBT Affirmative therapy also means you don't have to "educate" your psychotherapist or hypnotherapist on life experiences of being LGBT+. You will not be expected to mirror heterosexual relationships and not be influenced to do so. LGBT+ relationships may have some similarities but also have differences too. You will be accepted for who you are and for what your needs are in life and love.
LGBT Affirmative Relationships
Relationships may be an issue that you are struggling with right now. Being LGBT+ might mean that you have experienced rejection from friends, colleagues and family. Our social networks are very important. If we feel snubbed by
Whether LGBT+ or straight you may have other issues that are not necessarily connected to your identity. I often help people who feel stressed, have sleep problems such as insomnia, have OCD, phobias and self confidence issues. Maybe you are unsure about your career direction. Some people choose a career to attempt to gain approval from a parent. Unfortunately, this never works out well. Happiness will only last if you choose a career that you have a passion for.
LGBT+ Affirmative Therapist

I am Steve and as a gay man I have also had my own journey of discovery. As an affirmative therapist I have volunteered for organisations such as the Globe Centre, Stepney Green London, London Lighthouse, Ladbroke Grove, London and Derbyshire LGBT+, Derby. In private practice in London and Derbyshire I see many LGBT+ people and have received many positive reviews.
I would love to help you too. If you are looking for an LGBT affirming psychotherapist, hypnotherapist or EFT practitioner, please get in contact. I offer a free initial consultation to see if we are a good fit. Just email me or give me a call on 01773 436796. I have a discreet private practice close to the city of Derby and Nottingham which is convenient for anyone in Derby, Nottingham or Derbyshire and Nottinghamshire. I also offer online LGBT+ affirming therapy using Skype or Zoom.
I hope to hear from you very soon.